"I must finish [writing this letter] now, because I've got to write
  at breakneck speed—everything's composed—but not written yet."—Mozart.
  
Mozart nailed it and this is a great way to write books as well. Composing the content in mind over a period and then writing it down, in that
breakneck speed
has worked quite well for me. But that's only possible because of a great team.
Back in 2008 I wrote this blog
How long does your publisher take to publish your book?—How about 1 month from draft to beta?
My favorite publisher has done it again.
The busy year was winding down and the entire month of December looked free on my schedule. A great time to write a book on something that has
been composed, but not written yet
. On December 1st, I set out on a two-weeks sprint to create the first draft of
Functional Programming in Java: Harnessing the Power of Java 8 Lambda Expressions
—the checkin activities are shown in the figure below (lines are really a count of lines of code and paragraphs of text rather than sentences).
After writing a few chapters of the book, I contacted the nice folks at the
Pragmatic BookShelf
. Susannah Pfalzer, the Managing Editor at the publisher, helped me through the submissions and evaluations. Hearing my desire to be once again on a
fast-track
, she helped get through the initial procedures fairly quickly.
The first draft was complete on December 13th and Jackie Carter came on board as the editor. I had not worked with Jackie before, but I soon realized that she's not one of those run-off-the-mill editors. Not only was she swift in reviewing the contents starting on December 14th, she would then call me to spend a couple of hours to help tease some concepts out of my head. As you can see in the figure below, the draft blossomed under her care within the first two weeks of development edits.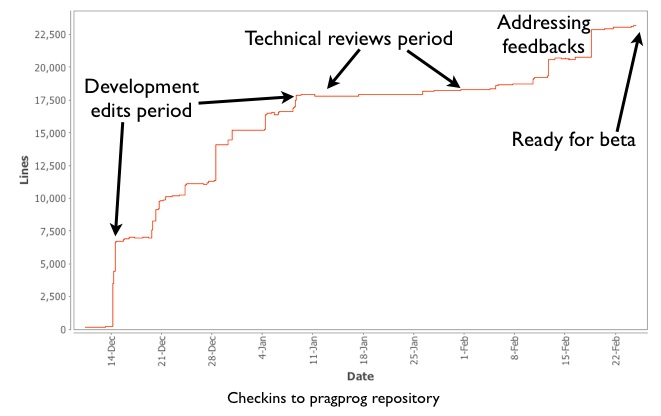 Yes, you're seeing it right, she was very kind to worked through the holidays so I can get this to tech reviews before I went on my crazy trips starting January 12th (I have traveled 50,000 miles since then to today, it was critical to get this done before I took off).
As you can imagine, writing a book in a short amount of time can be pretty stressful. During the long hours, my family gave me the space and slid food under the door so I can work undisturbed. Each call from Jackie at the end of most days were highly therapeutic. She would ask me good questions, guide me along in areas that needed rewriting, and the entire conversation motivated me to take on more tasks the next day.
The book went into the able hands of the tech-reviewers in mid January. Then came in their reviews. I am fortunate to have some incredibly talented reviewers, who were so willing to volunteer their precious time; here's an excerpt from the book, thanking them:

The reviews were very constructive and there were so many great suggestions. They pointed out where I needed more content, things I needed to fix, and at the same time, indicated things they really liked. It took me a couple of weeks to make the changes based on their reviews, each one of their suggestions were golden.
The team working on Java 8 has done a great job in bringing lambda expressions and functional style of programming on board. I thoroughly enjoy keeping up with the language as it continues to evolve. I thank them for making this open and accessible.
Mozart was right on, it is a lot of fun to compose first and then write it in a breakneck speed, but that only works when you have the support of such incredible people. I am blessed to have that. Many thanks to each one who helped on this project.